Instant Hedge In Focus: Elaeagnus
Elaeagnus ebbingei Compacta, also known as Oleaster, makes a wonderful evergreen instant hedge.
Top 5 features of Elaeagnus
Attractive silver green foliage
Tolerant of maritime exposure and windy conditions
Thrives in all but the coldest or waterlogged locations
Fragrant flowers and attractive fruits
Easy to care for, prune once a year
Why choose Elaeagnus Instant Hedge?
Oleaster has very attractive leathery leaves that are metallic grey-green above and silver underneath. This mix of colours gives a silver shimmering effect when the leaves of an Elaeagnus hedge flutter in the wind. Newly emerging leaves are almost entirely silver, adding to the sparkly appearance.
Elaeagnus Instant Hedge is a robust hedging plant that is very tolerant of site conditions, except those that become waterlogged. It prefers a well-drained soil although it can grow in very poor soils. It is also very drought resistant and will succeed in dry soils. This versatile plant is as happy in full sun as it is in deep shade.
This hedging plant is one of those species that is extremely resistant to maritime exposure and salt-laden winds. It can grow right next to the sea and in such a position would give very good wind protection. The plants are fairly hardy in temperate areas, and although they are not best suited for the coldest, harshest of winters, they can be seen at the Edinburgh Botanic Gardens in Scotland.
Another attractive feature of Elaeagnus Ebbingei  is how it flowers and produces fruit. Exquisitely scented tiny bell-shaped, silvery flowers appear in clusters during October and November. The flowers then ripen into fruits in spring, which are red with a very attractive silver marbling effect. Known as Wild Olives these are edible when fully ripe and are popular in south-eastern Europe.
Elaeagnus Ebbingei is excellent for creating a dense evergreen screen with seasonal interest anywhere but has particular value in coastal or windy areas.
Elaeagnus Practical Instant Hedge Currently is available in heights of 1.6-1.8m and 1.8m high.
Click here to  if you would like a quote for this instant hedge.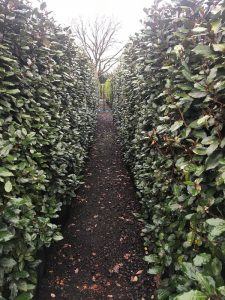 | | | | | | | | | |
| --- | --- | --- | --- | --- | --- | --- | --- | --- |
| Species | Latin | Foliage | Pruning | Annual Growth | Aspect | Soil preference | PH | Leaves |
| Oleaster | Elaeagnus ebbingei Compacta | Evergreen | Once in July or August | Fast 40-60cm | All – excellent for coastal areas | All well drained | Acidic to slightly alkaline | Silvery Green |
How to order Practical Instant Hedge™
If you like to find out more about our comprehensive range of evergreen and deciduous Practical Instant Hedges, you can:
Explore our website for more details, including current size availability
We offer supply only, or supply and installation
Call us on 01753 652022 and speak to our horticultural team
Email us on hedge@pracbrown.co.uk with your requirements (including size and length of hedge, your location and whether you would like a price for installation) and we will return a quote within 2 working days.
https://www.pracbrown.co.uk/wp-content/uploads/2021/02/1.8m-high-Elaeagnus-12-2020-2.jpg
1251
2223
Marketing
/wp-content/uploads/2015/12/Practicality-brown-white-logo4.png
Marketing
2021-02-12 16:15:03
2021-03-19 10:40:15
Instant Hedge In Focus: Elaeagnus