Elaeagnus Instant Hedge
Elaeagnus ebbingei 'Compacta' makes a wonderful fast growing evergreen instant hedge.
Elaeagnus Instant Hedge is a robust hedging plant with tough silvery grey leaves that are frost, wind and salt resistant.
Also known as Oleaster, this Instant Hedge has the benefit of fragrant flowers in the autumn and orange fruits in the spring.
Elaeagnus ebbingei is excellent for creating a dense evergreen screen anywhere but has particular value in coastal areas.
Currently this Instant Hedge is available at 1.2, 1.3/1.5m and 1.6/1.8m high.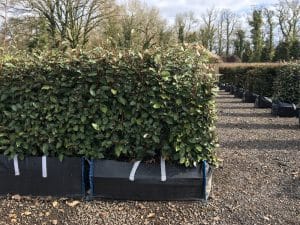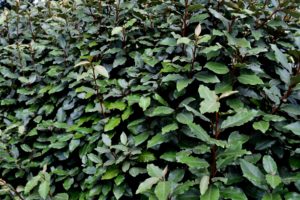 Elaeagnus Instant Hedge growing in the nursery at Iver
Click here to contact us if you would like a quote for this instant hedge.
aka eleagnus elagnus
Species
Latin
Foliage
Pruning
Annual growth
Aspect
Soil acceptance
pH
Leaves
Oleaster
Elaeagnus ebbingei 'Compacta'
Evergreen
Once in July or August
Fast 40-60cm
All

Very good coastal hedge

All well drained
Acidic to slightly alkaline
Silvery-green evergreen foliage