Booking Your Nursery Visit
We would be delighted to guide you around our nursery in Iver, Buckinghamshire to view our Practical Instant Hedge and containerised trees.
We are located near to M4, M25 and M40 junctions, about 6 miles from Heathrow Airport and 15 miles from London. Just 1 mile from Iver Station, with trains from London Paddington.
Please phone us first 01753 652022 to book a nursery visit and we will ensure we have an expert on hand to show you around.  We also recommend bringing pictures and measurements (particularly of access) as well as a description of your soil type so that we can give you the right advice specific to your enquiry.
Important Information
We are a wholesale production nursery that grow our trees in containers and instant hedge in trough bags. From time to time, we experience welcome heavy rain which can make our nursery muddy. We suggest that you bring suitable footwear, and dress comfortably for viewing a working nursery.
We look forward to meeting and helping you with your enquiry.
Practicality Brown Ltd
Swan Road, Iver, Bucks, SL0 9LA
Opening Hours
Monday to Friday 8.00am – 5.00pm
(Not Bank Holidays)
Viewing by appointment only, please call to arrange
Call us on 01753 652022
Email: trees@www.pracbrown.co.uk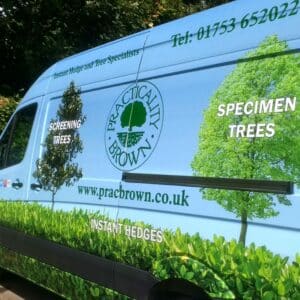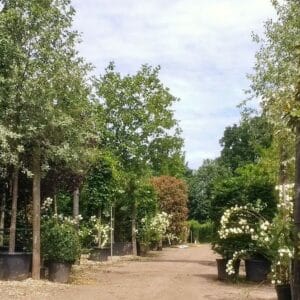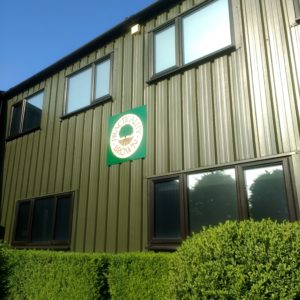 Wide Selection
People are often surprised at the range and sizes of trees and hedging we have here on the nursery, available in a wide variety of sizes. We are sure you will be able to find something to fit your requirements
Specialists
We are a specialist tree and hedge nursery. Come and visit us to get expert advice, planting tips and help with choosing the right products for your needs.