Instant Hedge from Practicality Brown
Suppliers of mature hedging including the unique Elveden Instant Hedge, Practical Instant Hedge and other ready grown hedges.
Instant Hedges
We have specialised in instant hedging for over 20 years, providing immediate impact and maturity to many private gardens and landscaping projects. Our instant hedges are pre grown and sold by the linear metre, rather than as individual plants.  Our mature hedges are available to plant all year round and are supplied between 0.8m and 1.8 to 2m high.
We are well known as the premier supplier of the UK grown Elveden Instant Hedge™ but also source and develop hedges in convenient 1m lengths.  Please see our Practical Instant Hedge™ which is a mature hedging range grown by us in Iver and other ready grown hedges by specialist growers.
Instant Hedge Availability List
We have tens of thousands of metres of hedge in production – the species and heights available are listed below. The availability can change on a weekly basis and therefore we welcome specific enquiries, based on the approximate linear metres required and the time of planting.
Evergreen Instant Hedging
Deciduous Instant Hedging
Mature Ready Grown Hedges
Practicality Brown have a number of hedging options available to help take the time out of creating a mature, instant look for any garden hedge project – whether its instant evergreen hedging for privacy screening or the seasonal interest of a mature deciduous hedge.
Instant Hedge Benefits
Hedges are cost effective, compared to a brick wall and form an attractive boundary more quickly than many gardeners imagine.
They can create a really strong framework for the garden, so that it looks good in midwinter and is adapt at providing an attractive background to carry the beautiful floral decoration of spring and summer.  As well as providing structure to the garden, they can be perfect for wildlife, and particularly nesting birds.
Planting a mature, instant hedge has the following benefits:
We have taken the time to grow the hedges, so you don't have to!
Shelter: reducing wind strength better than a solid barrier
Filter: absorbing dust and noise
Privacy: as an effective visual screen, particularly evergreen hedging
Security: a prickly hedge is a great intruder deterrent
Beauty and interest from seasonal changes, particularly deciduous hedging
Background texture and colour complement other plants
Wildlife: food and shelter for a wide variety of native insects, birds and mammals
Weather-resistance: much better than manmade fences or brick walls
Economy long term compared with fencing and brick work
Long-lived: hedges can last hundreds of years
Can be planted to shape, such as a curve
Easy to maintain
See our separate notes on maintaining your instant hedge.
Our service options include delivery and installation or delivery only; for hedges direct to your garden, you need to look no further.
Hedging Plants
We can also supply beautiful individual hedging plants and elements for different applications and extreme heights of up to 6 metres; see our Projects page or News Blog for examples of our work.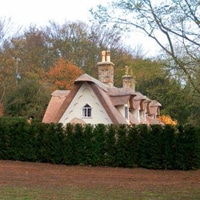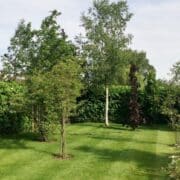 Hedging and Trees
"A big thank you to your team. Everyone was extremely professional, personable and responsive. Steve was excellent in making suggestions and coming up with a planting plan. Conrad was equally consultative during the planting process when we re-ordered the shrubs for the back garden once we had them on site and worked with us on positioning the front hedge. Everything looks great and we couldn't be happier with the screening set up in the back garden – most importantly, our neighbour loves it!! As Steve knows, we have another project on the go at the moment – we will be in touch next year once we start the landscaping process and need to address another screening challenge." SB