Hawthorn Instant Hedge
Common Hawthorn (Crataegus monogyna) is a popular native deciduous hedging plant with dark green deeply lobed leaves.  A Hawthorn Instant Hedge's thorns make it one of the best available for security.
A seasonally interesting deciduous hedge, that offers a shelter for wildlife. Crataegus monogyna hedge plants announce the arrival of spring, by coming into leaf within a few days of the initial buds appearing, followed by an abundant display of white scented blossom, and it forms red haws in autumn.
Hawthorn is currently available at 1.5m high as a Practical Instant Hedge and 1.2m high as an Elveden Instant Hedge.
This Instant Hedge forms an impenetrable barrier, accepting most soil and can be planted in all but the deepest shade.
This native hedge grows quickly (20 – 40 cm/year) and requires pruning once a year, ideally in July.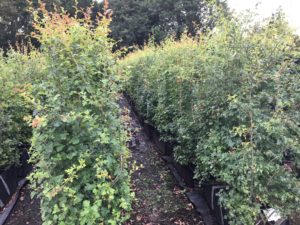 1.5m high Practical Instant Hawthorn Hedge grown in easy to handle 1m long hedge bags
Click here to contact us if you would like a quote for this instant hedge.