Woodland, Hedgerow and Tree Translocation
Contact us for further information
Practicality Brown has extensive experience of large scale woodland and hedgerow translocation and tree transplanting.
Woodland Translocation
Woodland translocation is carried out according to age and likelihood of re-establishment. The most common method involves coppicing of larger trees followed by stump translocation then woodland soil incorporating all mycorrhizal and seed/bulb bank. Care is taken to minimize ground impact, relocate soil horizons and habitat features. Occasionally smaller flora is individually containerized and transplanted according to best horticultural practice.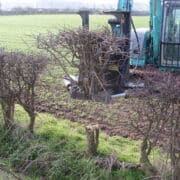 Hedges reduced for transplanting
Hedgerow Translocation
Hedgerow Translocation is carried out according to age and species of hedge and the method best suited to acceptable level of re-establishment on the receptor site. Typically the hedgerow is coppiced, followed by transplanting using either a tree spade machine or by adapted excavator attachments. Successful translocation depends on good aftercare.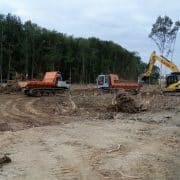 Low ground pressure machinery working in woodland
Tree Transplanting
Individual tree moving involves complete tree and root ball translocation using a purpose built vehicle-mounted tree spade. Trees are moved individually from receptor to donor locations one at a time from receptor to donor locations.
Woodland Translocation Experience
Channel Tunnel Rail Link (HS1), where extensive areas of coppice woodland were transplanted and road building projects such as A46 Widmerpool to Newark, where over 3km of hedge and 3ha was successfully translocated.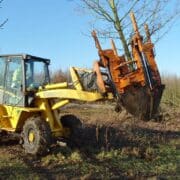 Low ground pressure machinery working in woodland
Ecology and Habitat Mitigation
Our tree clearance operations often have to dovetail into the same programme as ecology and habitat mitigation or environmentally sensitive works. We have therefore established close working relationships with ecology contracting specialists, with whom we are pleased to work in-tandem. This approach provides our client with the peace of mind that the sub-contractor interface will not delay the programme or increase costs unnecessarily.
Whilst we have a wealth of in house experience with tree and woodland translocation, we now offer a full ecological mitigation contracting service with our partners.
Practicality Brown Translocation Experience
We are experienced in both woodland assessments, surveying for translocation and carrying out the works.  Any translocation work requires planning, management, operational expertise and aftercare; we have the experience and capabilities, having transplanted over 500,000 root ball stock over three decades.
Read more in our woodland translocation blog
Ecological Services Offered
Ecologists can be provided, where required, to carry out habitat watching briefs and the following habitat mitigation services are offered:
Woodland Translocation
Hedgerow Translocation
Bat and Nesting Bird inspections
EPS (European Protected Species) Inspections
Deadwood Strapping and Piling
Reptile and Badger Fencing
Destructive Searches with ecologist in attendance
Tree Protection Fencing
Woodland and Heathland Restoration
Ecological Projects
We have worked on a whole range of site environments including woodland and heathland where careful scrub clearance is required such as bramble and Rhododendron. Our projects have included:
Heathland tree clearance for local authority, private owners and wildlife trusts (such as Defence Estates training sites)
Woodland restoration for amenity clients
Parks restoration including several Heritage Lottery funded schemes (such as Battersea Park, Cusworth Hall and Ampthill Park)
Low impact clearance of sensitive sites ( such as dormouse habitat sites)
Woodland and hedgerow translocation
See projects page for details of just some of our case studies.
Through Practicality Brown's long history of tree transplanting and growing, we have the knowledge and horticultural understanding to both advice and undertake woodland translocation projects.
We work closely with consultants and clients to convert aspirations into successful projects. Our experience includes the translocation and re-establishment of whole trees, coppiced stools and hedges, woodland flora and soils.
Protection fencing
During ecology mitigation work, provision often has to be made for protection fencing, whether temporary for trees or to control movement of reptiles and/or mammals. We can assist with this fencing and work in conjunction with ecologist for the protected species, or protect trees in readiness for demolition, development or other work taking place and for treatment of noxious plants.