Practical Instant Hedge™
Using our 20 years of experience in developing, maintaining and planting instant hedging, we are now producing our own Practical Instant Hedge™ which is mature hedge grown in 1m long pieces here at our nursery in Iver, Buckinghamshire. The production method ensures that this mature hedge is easy to handle with no transplant shock and that it can be planted all year round.
We have an expert grower overseeing production and are able to offer a premium mature hedging product, grown with top quality plants, suitable for both commercial and domestic situations.  Our Practical Instant Hedging range currently consists of Native Mix, Griselinia, Yew, Elaeagnus, Portuguese Laurel, Common Laurel, Privet, Holm Oak, Hawthorn, Beech, Hornbeam, Holly and Box with more species to follow.
This Instant Hedge is particularly easy to plant and is available for delivery to your garden project right now!
1.5/1.8m high Portuguese Laurel and 1.5m high Griselinia Practical Instant Hedge™ at the nursery in Iver
Award Winning Hedging
Our UK grown Instant Hedge is proving very popular with gardening professionals. Over 400m has been planted in the Children's Garden at Royal Botanic Gardens, Kew. Whilst many Garden Designers at the Royal Horticultural Society Garden shows and festivals throughout the year, including Chelsea and Hampton Court, have used out Practical Instant Hedges™  as a background for their designs.
Royal Botanic Gardens Kew
We grew 200 metres of Mixed Native and 190 metres Green Beech Practical Instant Hedges™ for Royal Botanic Gardens, Kew.
See our Projects page for more information on these gardens.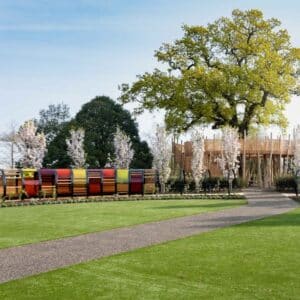 Childrens Garden at Royal Botanic Gardens, Kew
RHS Tatton Park Flower Show 2019
We supplied our elegant Portuguese Laurel Practical Instant Hedge for Kristian Reay's Phytosanctuary Garden in the Young Designers category. This garden gave Kristian a Gold medal and Best Young Designer 2019 award.
See our Projects page for more information on these gardens.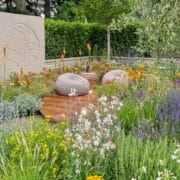 Portuguese Laurel Practical Instant Hedge for Phytosanctuary Garden
RHS Hampton Court Garden Festival 2019
Six gardens were supplied with 75m of our Instant Hedge as well as five semi-mature trees at the world's largest annual flower show. Two Silver medals, two silver gilts and a Gold medal, plus Best in Class, Best Construction and Peoples' Choice Awards
See our Projects page for more information on these gardens.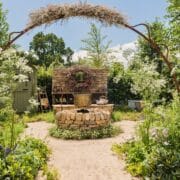 Trees and Native Mix Hedge – Naturecraft Garden by Pollyanna Wilkinson
RHS Hampton Court Flower Show 2018
We supplied our Practical Instant Hedge for three Show Gardens. The hedges used were Native Mix and Griselinia.
See our Projects page for more information on these gardens.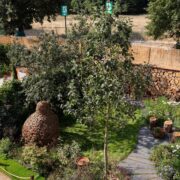 1.8m high Native Mix – Family Garden by Lilly Gomm
RHS Chelsea Flower Show 2017
Our Practical Instant Hedge had its first outing to RHS Chelsea Flower Show in May 2017
A mock-up of our Native Mix Practical Instant Hedging before going to Adam and Jon's Chelsea Garden for World Horse Welfare, which went onto win a Gold Medal and The People's Award for Best Artisan Garden .
See our Projects page for all the details on these gardens.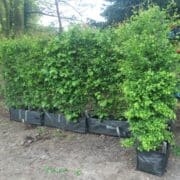 Native Mix Instant Hedge in practical bags
Practical Instant Hedge™ Availability List
We have thousands of metres of hedge in production – the species and heights available are listed below. The availability can change on a weekly basis and therefore we welcome specific enquiries, based on the approximate linear metres required and the time of planting.
Evergreen Instant Hedging
Yew  (Taxus baccata) – 60cm, 90/100cm, 1/1.2m and 1.3/1.4m high
Broadleaf (Griselinia littoralis) – 100/120cm, 1.2/1.4m and 1.8m high
Photinia 'Red Robin' – 1.4/1.6m high
Oleaster (Elaeagnus ebbingei  'Compacta') – 1.5/1.8m and 1.8m high
Holm Oak (Quercus ilex) – 1.6/1.8m high
Portuguese Laurel (Prunus lusitanica 'Angustifolia') – 1.5/1.8m and 1.8m high
Common Laurel (Prunus laurocerasus 'Rotundifolia') – 1.5/1.8m high
Holly (Ilex aquifolium) – 1.2/1.4m high
Box (Buxus sempervirens) – 60cm high
Privet (Ligustrum ovalifolium). Semi-Evergreen – 1.4m and 1.8/2m high
Deciduous Instant Hedging
We also have evergreen and deciduous hedges taller than 2m high available – click on the following link for details – screening trees and high hedge
The Practical Instant Hedge™ Difference
Densely pre-planted and ready grown to 35 – 60cm wide and up to 2m high, species dependent
Produced in 1m long bags of continuous root strips for stress-free planting all year round
Easy to plant
Supplied on standard 1m x 1.2m pallets
All stock is carefully maintained, irrigated and treated with controlled release nutrients to optimise health
Available in any lengths, and can be bent to almost any shape
Available direct on a supply only or supply and plant basis throughout the UK by the metre
Prices vary according to species, height, quantity, and planting logistics
Recommended automatic irrigation systems can be installed at the same time as planting
Practical Instant Hedge™ growing in the nursery at Iver
Please Contact our sales team for a detailed quotation, or to arrange a nursery visit.