Screening trees and high hedges
Screening trees are generally used to hide, or shield an undesirable view, or to create some privacy.
These tree often have a clear stem to reach up to fence panel height of around 1.8-2m with a full-bushy canopy above. This type of screening is particularly useful if you are overlooked by neighbouring properties, would like to draw the eye towards a specific feature, or would like to retain lower level exposure i.e. of an attractive wall or area. We can also supply feathered trees that have full growth from the ground upwards and offer the same screening ability.
Generally, evergreens are preferred for this purpose and can be planted densely to achieve maximum effect from the offset.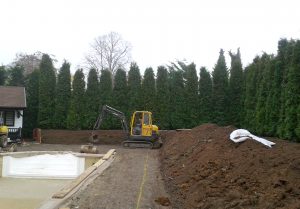 Thuja plicata being planted by Practicality Brown to screen a swimming pool
1. Prunus laurocerasus / Common or Cherry Laurel
Cherry Laurel is popularly used for screening due to its upright and bushy habit. This is our most popular clear stemmed screening tree. We sell this in pleached form as well which is excellent for screening in smaller gardens. Plant in sun to shade, prefers moist slightly acidic cultivated soil. Mature height 5 – 6m high.
2. Quercus ilex / Holm Oak
Holm Oak ia a large evergreen tree with a dense ovoid crown becoming rounded later in age, it has leathery serrated holly-like leaves. Quercus ilex (also known as Evergreen Oak)  regenerates very well after pruning,  creating a dense all year round screen. Its a robust, hardy tree can be can be planted in most soil types including calcareous, sandy and clay; in coastal regions and is tolerant of urban pollution and dry soil. Mature height 25 metres.
3. Thuja plicata / Western Red Cedar
Mature height 20-25 metres with a spread of up to 5 metres. An impressive, fast growing, narrow, vertical and densely branched conifer tree. Glossy dark-green scales very aromatic. Thuja grows shallow roots with a tough dense network. Plant in sun to light shade in all types of soil. Thuja is usually frost hardy is sensitive to draught but tolerant of urban pollution.
4. Thuja occidentalis Brabant / White Cedar
The White Cedar naturally grows into a compact, conical habit with slightly drooped branches. Its light green leaves are almost scaly and grow in flat sprays and produce long, thin, yellowish-green cones that become brown when ripe. It has a reddish-brown bark that peels off in thin strips. Due to its dense habit this tree is ideal for privacy screening. It is a highly tolerant tree and can grow in most conditions.
For screening up to 2m high please see our Instant Hedge pages.
Also see our news article for more suggestions – and of course, you can use our Tree Finder to select trees based on your own attributes.
Contact Us
Please use the enquiry form with details of the trees that you are interested in and we will provide you with a bespoke quotation.