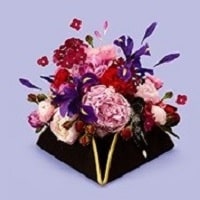 Practical Instant Hedge At Chelsea Flower Show
The Container Garden category at this year's RHS Chelsea Flower Show create positive green spaces for health, wellbeing and the environment. The aim is to show that any space, no matter how small, can be turned into a gardening haven. These small gardens offer plenty of inspiration for making the most of limited space and resources.
We are delighted to be working with multi award-winning garden designer Paul Hervey-Brookes again at the RHS Chelsea Flower Show. As well as creating his own show garden, Paul is mentoring five newly qualified designers for the Container Garden category.
Each of the five gardens is enclosed by our Practical Instant Hedge™.
Container Gardens
Designed by Jane Porter Gold Medal and Best in Category Winner
This is inspired by the plants that thrive across the Highlands and Islands. The plants reference native species and the climate to evoke an atmosphere that is immersive, secluded and still.
Designed by Ann Treneman Silver Gilt Medal and People's Choice Winner
Wild edible plants and trees are brought into a small urban setting. The planting is informal colourful, airy, natural, and tasty too. It would work perfectly in the back garden of a city terrace.
Designed by Bea Tann Silver Gilt Medal
Inspired by a rainy garden in Manchester, this container garden is designed to thrive in wet conditions, influenced by UK forests
Mandala, Meditation and Mindfulness Garden
Designed by Nikki Hollier Silver Medal
This garden offers a safe haven to spend time sitting and meditating, listening to the tranquil water, bees humming and birds singing – a calm and restful but rejuvenating space.
Designed by Tanya K Wilson and Johanna Norlin – Mallorca Garden Design Silver Medal
Inspired by the Mallorcan landscape, this container garden utilises the colours and stone textures of the Mediterranean through artisan elements.
Gallery
More Information
You can see these gardens, and much more of the Chelsea Flower Show, in the BBC's comprehensive TV coverage on the BBC iPlayer.
Talk to our Horticultural team about how Practical Instant Hedge™ could be right for your own garden.
https://www.pracbrown.co.uk/wp-content/uploads/2022/06/Chelsea-2022-logo-flowers-1.jpg
200
200
Marketing
/wp-content/uploads/2015/12/Practicality-brown-white-logo4.png
Marketing
2022-06-07 15:20:40
2022-06-07 15:22:21
RHS Chelsea Flower Show 2022