Instant Hedges and Trees
You are here:
Home
/
Instant Hedges and Trees

Hedges & Trees

Experts in Instant Hedges
&

Trees

We are The Instant Landscape Specialists and supply large trees, instant hedges and topiary
Contact Us
Use this form to contact us about your tree or hedge enquiry.
Suppliers of Instant Hedges and Trees
As Instant Landscape Specialists we are able to transform any space into a mature looking garden. Whether it is a single tree that you are looking for, evergreen screening, Instant Hedging or a complete garden project Practicality Brown can help.
We have been supplying high quality semi mature trees and instant hedges since 1989 and are the Main Distributor of the mature Elveden Instant Hedge™  which we were instrumental in developing.  Our instant hedges are often used in award-winning RHS Flower Show gardens. See the projects page for updates.
The Instant Landscape Specialists
Our tree nursery in Iver showcases stunning specimen trees, both evergreen (ideal for creating privacy screening) and deciduous stock; we have large top quality containerised trees and elegant topiary to complement your garden project.
We also have considerable experience in transplanting large trees, as we have the appropriate expertise and specialised tree moving equipment.
We can deliver on a supply-only or supply and plant basis and also offer a recommended irrigation system. Delivery costs vary according to quantity of items and location.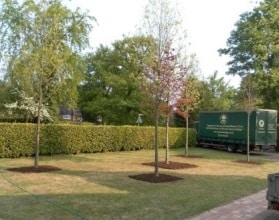 Completed garden projects – supplied and planted by Practicality Brown the Instant Landscape Specialists
Online Guides and Information
Our horticultural experts can offer advice, call 01753 652022 or you can look through our website for more details on:
Contact Us
Please use the enquiry form to add trees and hedges that you are interested in so that we can provide you with a bespoke quotation.
We would be delighted to show you around our nursery; to book nursery visit, see our contact page for details.
Fact Sheets
Select the More section from the top drop down menu for How to fact sheets, which you can download to read later:
Help me Choose
We have many quality trees that will make a wonderful impression in your garden; browse through the Tree Finder or use these ready guides for a selection of trees for specific situations:
Testimonials
Photinia Hedge 
"Thanks for a job beautifully done! The Photinia hedgerow looks brilliant; as if it had been there ten years already. The team were great; very efficient and professional, carrying out their work with care and precision. Even the lorry and the equipment looked classy! I arrived at the house at 8:00am to the usual gap at the front and by lunchtime the hedge was in place being irrigated and the grounds tidied over.  So glad I went with Practicality Brown and if anyone wants a recommendation, I'll give you my 10 out of 10 vote. Thanks again to all who worked on this project." HS
Beech Hedge 
"Just wanted to say how thrilled we are with the beech hedge you installed at the beginning of the month.  We were very impressed with all the team from start to finish, they were friendly, extremely efficient and very tidy.  It really sets the house off and has been much complimented on by friends and neighbours.  In fact one of them has already asked for your number. Please pass on our thanks to all those involved." D&S M
Yew Hedge
"We were very pleased with the Yew hedge – it has achieved exactly the effect that we wanted… " I H – Whitchurch.
Laurel and Yew Hedge to Cheam
"The Practicality Brown team were very helpful and co-operative. I chose the hedges myself and was delighted with the service". Dr. R P
Tree and Hedge planting in Herts
"I expected you to be good and you were, well done". JR, Hertfordshire.
South Staffordshire Council
"Very pleased with the product, good informative response from site workforce. The Yew hedge for Sytch Lane Cemetery (Wombourne), lived up to our expectations". PD.
Hornbeam Hedge to Local Authority Park
"I'm not really sure where I heard of Practicality Brown, but I am very pleased with the quality of the hedge supplied…" JC.
Green Beech to Oxford
"The hedge was recommended by Pathfinder Gardening. The quality of the Beech hedging supplied was excellent". AM.
Laural Hedge
"The impact of a 30 metre long, 6 feet high instant laurel hedge appearing overnight caused some very amusing stares from drivers on the school run! A fantastic end result, providing privacy and noise reduction". CC.
Yew Hedging
"Many thanks for the great service and quality of the yew hedging. I will be in touch regarding future work soon". R.
Company Information
All photographs and content are Copyright © Practicality Brown Limited.
All Rights Reserved.
Registered Company No: 02114017
VAT Registration No: GB460755932
Contact Us
Practicality Brown Ltd
Swan Road
Iver
Bucks
SL0 9LA
01753 652022
Opening Hours
Monday to Friday 8.00am – 5.00pm
(Not Bank Holidays)
Viewing by appointment only, please call to arrange