Holm Oak Instant Hedge
Holm Oak (Quercus ilex) takes its name from Holm, an ancient name for Holly due to the shape of its leaves.  A Holm Oak Instant Hedge has glossy, dark green leaves which are pale whitish-grey underneath; yellow catkins grow in spring/early summer and young acorns are green when emerging in spring, turning dark red-brown before falling.
Holm Oak or Evergreen Oak makes a robust and sturdy hedge barrier; it is hardy, thriving in all well-drained soils. It is suitable for coastal areas, tolerates shade and copes well with air pollution.
This Instant Hedging is available as an Elveden Instant Hedge at 1.5/1.8 and 1.8/2m high as well as Practical Instant Hedge at 1.6/1.8m high.
Holm Oak has a medium growth rate (20 – 30 cm/year) and responds well to trimming.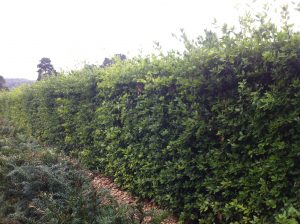 Holm Oak Instant Hedge at the nursery in East Anglia.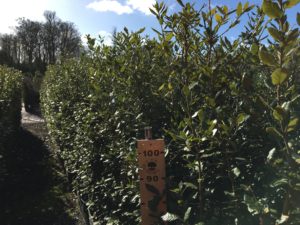 Holm Oak Practical Instant Hedge at 1.5/1.8m high.
Click here to contact us if you would like a quote for this instant hedge.
| | | | | | | | | |
| --- | --- | --- | --- | --- | --- | --- | --- | --- |
| Species | Latin | Foliage | Pruning | Annual growth | Aspect | Soil acceptance | pH | Leaves |
| Holm Oak | Quercus ilex | Evergreen | Once in August | Medium 20-30cm | Sun to shade | All well drained | Acidic to alkaline | Glossy, dark green, pale underneath; spiny when young |