English Country Garden
Our client has a beautiful house set in Conservation Area of a quintessential Hampshire village with extensive established gardens; he wished to develop and divide the land whilst maintaining the mature look.  The answer was our UK grown Instant Hedges, as it provides the immediate impact and necessary maturity to complement the existing landscape.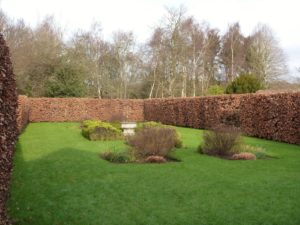 UK Grown Beech Instant Hedges
This instant hedging is a premium product, the best in class in terms of the size, density and quality; it is perfect for high end projects that demand a superior finish, as for this English country garden.
Matching Beech Hedges
Green Beech Instant Hedge was selected, not only to match the existing hedge, but also for its year-round screening ability and seasonal interest.  This required the new hedge to be planted in the middle, seamlessly linking to the mature existing hedges on either side.
Beech (or Fagus sylvatica) is native to the UK and has  attractive foliage that emerges bright lime green before changing to the stunning rich golden/brown autumnal colours, its outstanding feature.  It is adaptable and is one our most popular instant hedges, for its seasonal variation and native heritage.
Further Hedging
Other elements of this project included supplying and planting:
This UK grown instant hedge is grown from small plants into a mature clipped hedge at the nursery. It is then lifted to order, transported to site and planted with the pieces in the same order as they were in at the nursery. As can be seen from the images, we are able to effectively transplant a mature pre-formed hedge from the nursery to the client's garden. There is no need to wait for the plants to grow taller or together as the finished product is there from the moment of planting – this really is Instant Hedging.